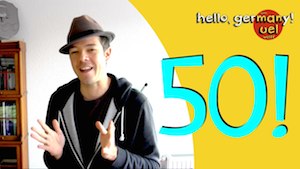 My 2nd Youtube channel, the amazing "hello, germany!" which is me, a german stand up comedian talking about anything concerning Germany or the rest of the world and also features some of my stand up performances and follow me arounds, recently reached 50 episodes.
Time to celebrate! So send me presents! Or if you can't leaving a comment, subscribing, giving thumbs up, adding the video to your favorites and some playlists and especially sharing it on facebook, twitter, etc. with your friends would suffice.
"Why?" you ask? So that I won't give up making videos and can do another 50.


[random_content]