Schlagwort-Archive:
squirrel
Alright, it took a while, but here it is, the new vlog and the answer to the squirrel eichhörnchen dilemma.
Now, we established that germans can't say squirrel, so I proposed a challenge for the rest of the world to say "Eichhörnchen", which I thought also wouldn't be that easy for americans, canadians, australians, the english, etc. … well, I got your answers, so check how funny and lustig it turned out…
This is the vlog "Hello, Germany!", where I will explain the world according to germans, or Germany according to me. Your questions, my viewpoints, I'm here to answer your concerns 😉
Please ask your questions in the comments and make sure to check back – please also give the video a thumbs up, put it in your favorites folder and press "share" to share it with your friends on facebook, twitter and more! Yay!
Looking forward to your comments and please subscribe to the channel:
A challenge for the english speaking world!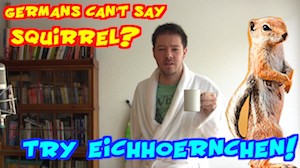 Everybody knows germans can't say "squirrel". But is that true? And for the rest of the world, here's your Challenge: Try saying "Eichhörnchen"! I'm looking forward to your video replies! Let's do this, Germany vs. the world!
Squirrel!
[random]
Looking forward to your comments, suggestions and of course, complaints!
My new english Youtube-Channel "hello, germany!" (please subscribe)
squirrel pic under public domain.