Good Morning, Germany – Vlog 17
Playboy bunnies in the toilet?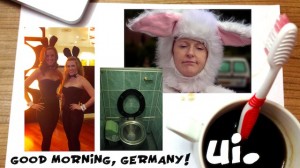 You can find weird stuff on the toilet of the Playboy Club Cologne – well, not that weird, but paper towels. Which Playboy bunny has to fold them? The overweight one? Who knows … also a litle bit of something about laws in Germany, did you know it is not illegal to "love" an animal?
Here's this weeks episode of "Good Morning, Germany!" – Have fun and leave a comment!
Missed last episode? Here it is: Viewer questions about german soft drinks and more!
Looking forward to your comments, suggestions and of course, complaints!
My Youtube-Channel (please subscribe, even though it is mostly german!)
click here for "Good Morning, Germany!" – All episodes
Playboy Bunny picture courtesy of Stevie Rocco used under creative commons CC BY 2.0
Lady in bunny costume picture courtesy of Stewart Black used under creative commons CC BY 2.0
Toilet picture courtesy of Mai Le used under creative commons CC BY 2.0