Good Morning, Germany – Vlog 15
Your questions answered!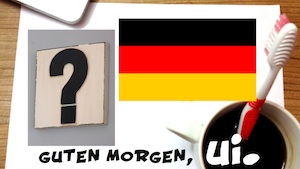 Today your viewer quetions get answered. Does the german diet consist solely of beer and sausages? And what TV shows did we watch growing up? And more stuff, just for you. If you have questions, don't be afraid to ask! If you don't have any questions, make some up!
Missed last episode? Here it is: Obama vs. Romney, 2nd presidential duel – a german perspective
Looking forward to your comments, suggestions and of course, complaints!
Here's this weeks episode of "Good Morning, Germany!" – Have fun and leave a comment!
My Youtube-Channel (please subscribe, even though it is mostly german!)