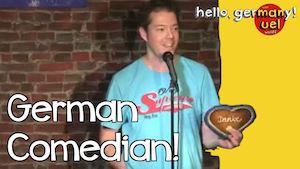 Hello people from earth! I've been doing stand up in English for a couple of years now and am leaving my lovely town of Cologne for a nice week of English performances in Maastricht, Paris and London tomorrow, so I thought it would be nice to take a look back at the very first performance I did in English:
[random]
This is from "Hollywood's Comedy Night", a monthly English comedy show created and hosted by american Comedian Johnny Hollywood in Cologne, Germany, where he invites british & american comedians to perform for expats living in Cologne.
And also gave me the chance to tryout performing stand up in a foreign language, as English is a foreign language to me, as I am a german stand up comic, yes, we exist.
So enjoy the clip and subscribe the youtube channel "hello, germany" because the will be more coming and please leave a comment 🙂
Booking inquiries for german comedian Manuel Wolff: mail@manuelwolff.de